"The Rainbow of Life" Donegal Retreat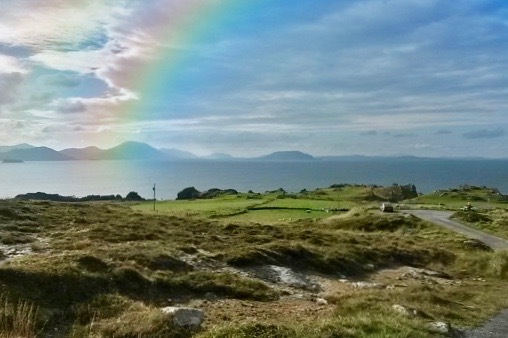 Rekindling the Fire of a Vibrant Holistic Health in co Donegal
August 25-30th 2019
If you are seeking to regain balance, vibrancy and inner peace in all aspects of your life then this week body-mind-soul nurturing retreat is for you: 5000 year old wisdom of yoga, Ayurveda, meditation, applied neuroscience and cellular healing will gently guide you to accessing the keys to a vibrant expression of life (prana), unleashing your passion and full potential.
Why Donegal?
As you approach your destination and drive along the unspoiled,fairy like shores of co Donegal, the sound of the wild Atlantic Ocean whispers it's primordial sound to your ears and, merging with the scenery of golden beaches, bordered with soft, green fields contrasting with high rugged cliffs in the distance, your whole Being starts expanding and unwinding.Eyes widening upon setting their gaze on quirky, rustic Corcreggan Mill, you can't wait to explore its immediate magical surrounds, grounding you in a peaceful sense of connectedness and yet sensing the karmic history lying beneath the vivacious physical manifestation of spirited living. Yes indeed, you feel the liveliness of the Eco-system surrounding you, merging with you and fall into stillness.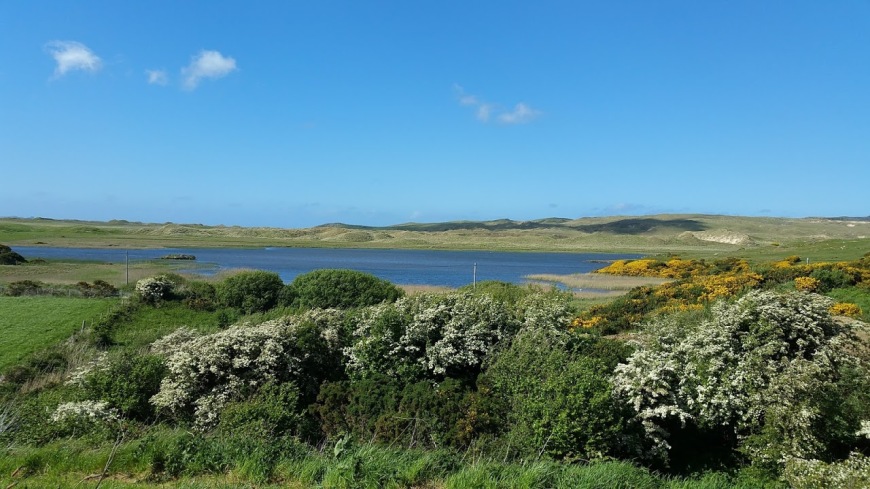 Taking your first stroll around the property,overlooking New Lake, Tory Island and the Atlantic you cannot but feel the sacred, higher energy field surrounding you and, eyes lingering on divinely guided creations, you start having an insight in the attention given to each details and the labor of love and commitment it has taken to bring about its fruition. Beneath it all lay many captivating stories, which the owner Brendan,will only be too happy to narrate.

So why should you join us?

Can you even conceive of the experience emerging from a six-day retreat, centered on YOUR needs for self- nurturing, energizing, and personal transformation?

It's been that long hasn't it! Sooo …difficult to imagine! And yet this is what this retreat is all about. Creating space in your life for nurturing, energizing and personal transformation using the transformative 5000-year-old healing wisdom of Ayurveda, yoga and meditation! (Delightful essential oils, chakra toning and melodious chanting will further enhance this experience.)
How would it feel to experience empowerment, trust and peace even in the midst of life's challenges?
It would be wonderful wouldn't it! Whilst at the magical and peaceful, award winning Corcreggan Mill you will be given the tools of dynamic meditation leading you to instant stress management as well as many other "life skill" tools…

Can you even imagine how it would feel to guide your body and mind back to balance and joyful energy?

Hard to believe…but that's exactly what will happen: nestled in between sea, lakes and gentle hilly land, located on one of the 10 power points of the old, pre-Celtic site " The Place of Transformation," in co Donegal, "Gentle Awareness Yoga" will guide you in reconnecting to your body, journeying through the different layers of your being and restoring balance.
Wouldn't you love feeling improved digestion, body softly detoxing, finding it's own ideal weight (without crazy dieting!), and energy soaring up, all the while enjoying beautifully nurturing foods prepared by our award winning chef?
That is precisely the beauty of this 6 day retreat which will give you time to learn and implement simple but profound Ayurvedic principles based on your specific body type. Those same Ayurvedic principles will guide you to resetting your inner clock, realigning with Nature's sacred rhythm and experiencing the natural flow and joy of life.
How comforting would it be to meet like-minded people, on the same quest as yourself and with whom open, authentic communication would just flow?
Would be so nice wouldn't it! During this profoundly transforming retreat, you will learn techniques supporting you in getting in touch with your emotions, identifying, sharing and dealing with them in a safe and healthy way. More importantly these practices will not only create ripples in your everyday life, whether at home, with friends or at work but also at a deep level within you and you will become your own best friend.
You reluctantly leave the magic setting of Corcreggan Mill, understanding the invisible thread, linking the three Vedic sisters, Yoga/ Ayurveda / Meditation through which eyes' body, mind, soul are seen as interconnected aspects of one underlying field of intelligence: consciousness.
Exploring this field of consciousness within yourself with the tools you will come away with, brings about changes in your perceptions and interpretations of life, improving your health and wellbeing.
Seeing your past experiences from a higher, wiser perspective, feeling and knowing that you can and do create your own reality, you can make the choice of living life from a more empowered, vibrant, joyful, healthy and nurturing place …. Starting with this retreat at Corcreggan Mill, co Donegal!!
The Venue
Corcreggan Mill Holiday Village, co Donegal: "The Spiritual Center of Ireland and the loveliest place on the face of the earth" AE (George Russel)

Upon setting your eyes on Corcregggan Mill for the first time, the simple, rustic and quirky fairy like surrounds, seduce you and your inner child takes a leap of joy: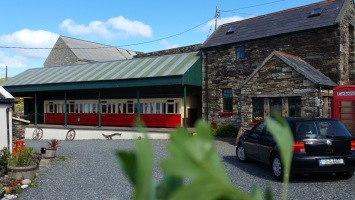 A 150-year-old, mahogany railway carriage (exactly like that in the famous Quiet Man, movie) restored and rebuilt on site, The Cottage, Glamping tents, the small, informal campsite, beside the mill stream on the Cottage Lawn and even a converted a newly restored and converted, Fishing Trawler Wheelhouse from which roof patio can be seen the best views of the lake and sea… Could this be Harry Potter's land?

"The 18th century Mill House was totally rebuilt in 2000 from its three remaining walls and fitted out with authentic, antique, flooring, radiators, furniture, artwork and memorabilia ... to achieve the "quirky" old-world charm which guests enjoy so much." Your will be accommodated in simple but comfortable twin en-suite bedrooms or larger than usual family rooms of 4 sleepers opening unto a spacious lounge and fitted with its own kitchenette and bathroom with separate toilets. Alternative choice of accommodation depending on availability (luxurious tent glamping, railway carriage …all providing comfortable beds)

Amidst this enchanting setting, Consciousness, (life energy) manifesting as the "Five Elements" (space, air, fire, water & earth) and embodied in the Four Kingdoms (mineral, plant, animal and human beings), conspires to enhancing our senses, engaging them as if for the first time, stilling our minds, hence body-mind merging and re-uniting as part of the ecosystem, our extended "body" … still reaching deeper within our soul and experiencing the Rainbow of Life.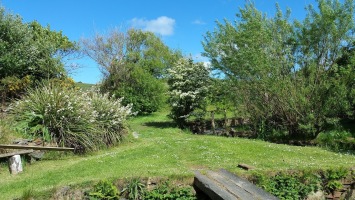 During down time (and yes there will be plenty!) you may wish to avail of the numerous outdoor/water activities, gourmet cafés, music and quaint shops in Dunfanaghy village, although you will find it difficult to leave the property and may decide to sit in silence by Mill Stream, meditating, journaling, enjoying the stillness in the outdoor meditation circle.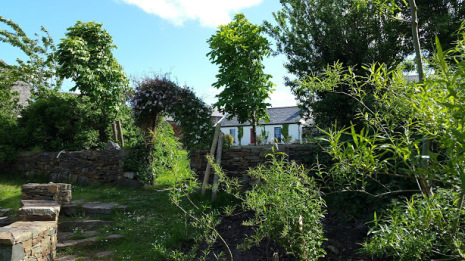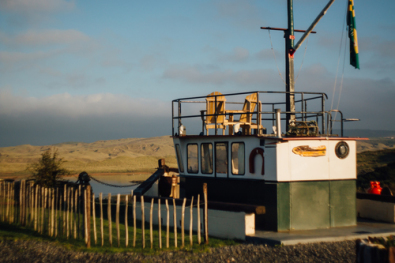 Ayurvedic Food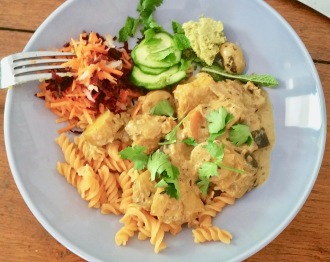 Ayurvedic nutrition nourishes each element and every tissue in the body by choosing foods that offers six tastes, or sensations on the tongue, at every meal but also includes all colors of the rainbow...

All meals are included in your package excepted for one day when our winning award chef William Mc Elhinney (Council's National Heritage Awards) will be taking a well deserved day off. Super scrumptious, mouth watering meals specifically prepared for your unique body-mind type will be presented to you, combining Ayurvedic wisdom and seaweed/algae nutrition. Just imagine fresh colorful, delectable yummy dishes leaving you feeling nurtured, light yet full of vibrant energy... Special needs diets will be taken into account.

We will also have a hands on session with "applied" Ayurvedic nutrition, learning to balance meals for your body types. All foods will be sourced organically, locally and ethically when possible .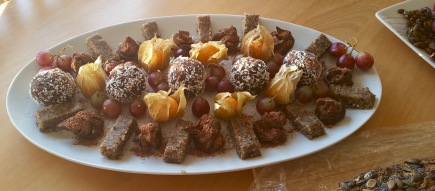 Karma yoga in the form of setting up/clearing up tables but also on one day, supporting our chef in the kitchen will allow for spontaneous encounters "opening" to new social circles.

You will go home with a blue print of what exactly to eat for your unique body type and how to adjust your meals in a simple, easy straight forward way for the rest of your family.
The Benefits
Renewed energy physically, mentally and emotionally
Know-how in bringing back/maintaining balance @ all these different levels
An established practice of nurturing yoga easy to keep up @ home

Improved digestion boosting your immune system, breaking down and absorbing nutrients from food more easily·
Detoxing from stored up toxins accumulated from years of not eating right for your body type

Being drawn to delightfully nurturing healing foods for your body type

Balancing your hormones by cleansing out toxins and hormone disruptors
Stimulating your lymphatic system
Enhanced perception of your body's language supported by simple self-care rituals

Resetting your inner clock
Feeling and communicating with an open heart

An established practice of simple meditation guiding you to access the silent space in between the thoughts, where balance, fulfillment and wellbeing arise and consciousness becomes our internal point of reference
Sensing with heightened intuition and hence making the right decisions ·

Connecting to the healing murmur of primordial sounds in nature
Experiencing the full spectrum of life
Seeing the rainbow of life with new eyes ....
And more… Attracting a more fulfilled life, experienced from a place of authenticity, joy and in harmony with your life's purpose
Would THAT be worth coming to Corcreggan Mill?
Needless to say YES!

Although there is a set program for this 6-day retreat there will be space for adjustments and tailoring some of the modules. I will intuitively lead the retreat to its best version for your particular group.

My own experience, inclusive of its challenges (and joys!), and how I was brought to facilitating these retreats, will, no doubt, inspire you to embrace your light and shadow, sine qua non for moving forward on our journey.

This is essentially an experiential retreat where body, mind and the five senses through which we perceive the physical world, will intertwine on this deep, amazing yet joyful journey.
Group practice/sharing but also time alone will allow for this to become your personal journey during which you will find releases/answers guiding you on your unique path.

Meditation, yoga, chanting, essential oils, journaling, reconnecting to our senses, our environment (extended body) and the cycles of nature through direct experience will trigger a healing and nurturing gentle detox at the physical, mental and emotional level.

Questions and answers during "satsangh" will find their full meaning as the retreat unfolds, giving time for clarity to emerge from these and integrate different layers of your consciousness. Deeper awareness may/will arise once back home as, once started on this path, seeking Truth becomes an ongoing journey …
To that purpose and as part of this retreat package, you will receive two group post-retreat-follow-up assistance, answering any questions/challenges you may come up with after the retreat, but also helping in keeping you on track with your practice so that you can reap the full rewards of the retreat and keep motivated until it all becomes part of a natural way of a joyful, vibrant life.

We will also connect before the retreat so that you can all get to know each other and so that questions answered, you feel happy and excited when heading to Corcreggan Mill.

Drawing from my experience/practice of teaching/guiding people from all wakes of life we will together, create a safe and nurturing embrace where "all of life" can be experienced and support you on your journey forward.

What's included
5 breakfasts and teas/water and delicious healthy snacks ·

4 scrumptious lunches & dinners prepared by our winning award chef ·

Karma yoga during which you will get to interact with other participants but also learn tips from our amazing chef. ·

Comfortable, simple accommodation (twins or shared spacious Kitchener hosting 4 including a spacious living space and kitchenette · *

10 yoga classes (of which 2 surprise sessions)- prayanama-meditation-chanting supported by the ancient and amazing balancing power of essential oils ·

12hrs+ Ayurvedic lifestyle sessions and applied Ayurvedic practice ·

2 hrs dynamic meditation integrating "life management" tools ·

Opening and closing as well as evening "satsanghs" – chanting ·

A brief intro to essential oils ·

Your own personalized introductory manual to Ayurveda + surprise gift ·

2hrs "discovery walk" with our accredited tour guide and host Brendan Rohan ·

2hrs accompanied walk to the amazing beach of Tramore ·

Downtime to unwind, journal, integrate the amazing experiences you will be undergoing but also connecting to other like minded folks. ·

An online pre-retreat gathering to introduce you to each other and answer any questions you have so that, questions answered, you feel happy and excited when heading to Corcreggan Mill ·

Two follow-up video calls answering any questions/challenges you may come up with after the retreat, but also helping in keeping you on tract with your practice
What's NOT included *

Transportation from your home to Corcreggan Mill
Personal, medical or trip cancellation insurance. (Strongly advised) ·

Trips to and through to Dunfanaghy (2 miles) or more distant locations ·

Water sports , Tai Chi Qigong or any other activities ·

Any additional treatments: Aromatouch (essential oil application on meridian points), one to one Journey sessions…). Please note these need to be booked prior to the retreat.
Alcoholic beverages
* Although we have an initial booking for some of the rooms and rates are included in the package, payments for these need made separately to Corcreggan Mill.

Arrival and departure
Our retreat kicks off at 5pm on Sunday August 25th, 2019. You are welcome to arrive as from 3pm to settle down, stretch your legs and take a first glimpse at the surrounds.
Our precious time together will end on Friday 30th, 2019 midday and you will be "released" on your joyful journey, free to share your experiences with the world.

About Claire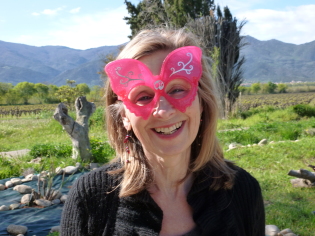 I was brought up in a bilingual/multicultural environment, which has made me curious and passionate about people, life and its many manifestations, in the physical dimension embodied through the Five Elements, but also beyond the physical realm.

I'm also curious/passionate about my own ongoing growth and blessed with the understanding of what lies behind all of life's challenges: the opportunity for growth and treading new paths arising from these very challenges…

It was indeed upon encountering severe health challenges that my life turned round and I found myself engaging with holistic therapies and lifestyle.

Nurturing the different aspects of myself, physical, emotional and mental has both been challenging at times, and yet "glorious" …like a moth falling into the flame" …heart opening, protection melting away, feeling the rainbow of emotions and allowing for the five senses to be experienced as if for the first time.
Yoga "on the mat" has been there for me to strengthen, realign, re-anchor, go deeper within and re-connect the inner and outer world allowing for joy, vitality and creativity to ripple in this current life.

"Journeying" through every moment of my experiences has created awareness and allowed disentanglement from old stories that needed/need letting go of.

Meditation strips away "illusions", negative sense of ego, attachment, revealing at times the real "me", that part that never dies, "the Self", and even occasionally blessing me with the experience of Oneness with all.

Ayurvedic lifestyle is the fabric that holds it all together, the "steering" that allows for my life to be lived through authenticity and in line with my life purpose.

As a yoga/meditation and Ayurveda teacher but also Journey therapist and Silva Method trainer (applied neuro-science), I am grateful to be given to live my "Dharma", life purpose, by sharing these ancient modalities of growth/healing, through which the sacredness of life, here and beyond, is revealed and can be celebrated as an unending source of joy, compassion towards ourselves and therefore towards others: light shining over our shadow and transmitting empowering "tools" and legacy to our future generations for making this world a better place.
I so much look forward to meeting you and sharing this precious time together
Your investment
Limited enrollment!
Accommodation included:(*to be paid directly to host)

€1,199 per person double occupancy with en-suite

€1,168 or spacious family "Kitchener" with lounge and own kitchenette/bathroom (4).

€ 1099 Quad Carriage (breakfast not included but with access to the kitchen

Early Bird discount by March 15th: €1099
Non refundable Deposit upon booking: 25%
2nd payment - 25% - 90 days before arrival
3rd Payment: balance: 60 days before arrival

Accommodation not included:
€974 inclusive of lunch-dinner as mentioned in package

Early Bird discount by March 15th: €899
Non refundable Deposit upon booking: €300
2nd payment - May 1st: €300
3rd Payment: June 1st: balance
Cancellation Policy

Any cancellation received in writing between June 16th, 2018 and June 30th, 2019 will result in a loss of 50% of the trip price.
Any cancellation made between July 1st, 2018 and the trip departure will result in a total loss of funds.
We reserve the right to cancel the trip if it is not meeting the trip minimum (if we cancel, your deposit is refunded)
Trip cancellation insurance is always recommended when making travels plans.